Would you like to discover Thailand's most beautiful islands in new ways? We offer you a relaxing sailing trip with our sailing yacht and feel paradise islands, dreamlike bays and white beaches. Experience the most beautiful sides of the Krabinesian Andaman islands from a boat and enjoy a thoughtful trip with excellent service.
Possible schedule for a 5-day trip
1. Day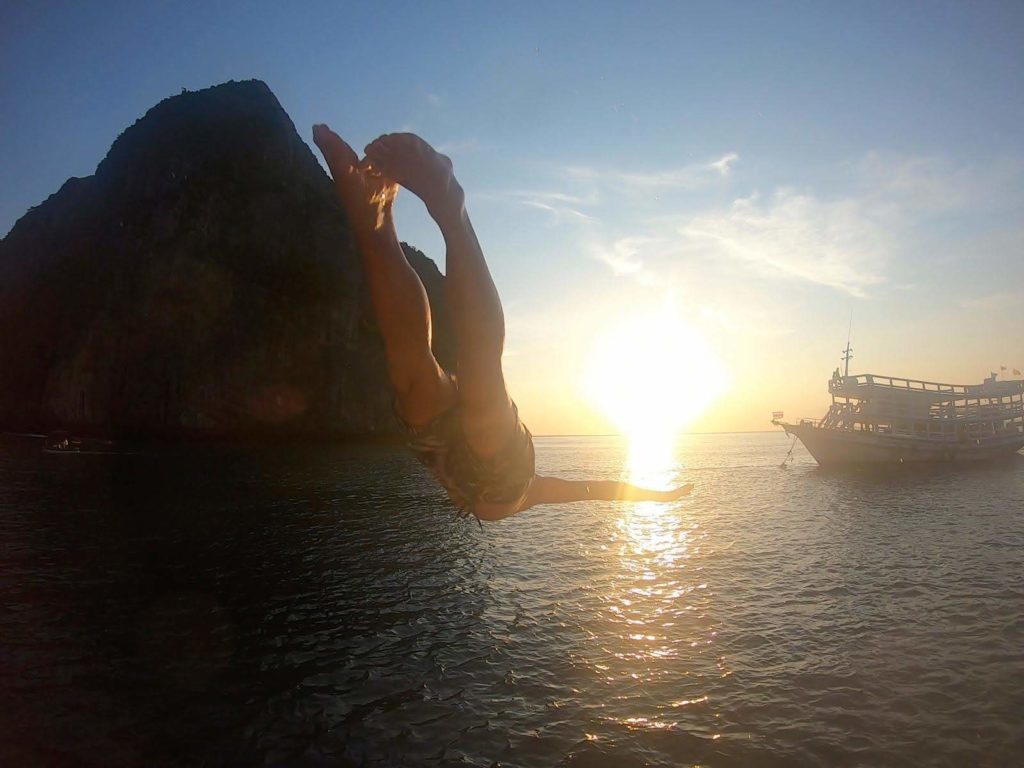 Our adventure at 9:00 am in the port of Port Takola / Krabi. After a short but necessary briefing, our captain already calls "Line off" and "Set sail". With refreshing wind and peaceful splashes of water we enjoy the islands Chicken Head and Mosquito Island and the everyday stress is already forgotten. Arriving on Koh Phi Phi we snorkel the lively underwater world of the turquoise dream scenery. At dusk we sail to our anchorage in the Mayan bay and let the evening hours end in the idyll of the setting sun.
2. Day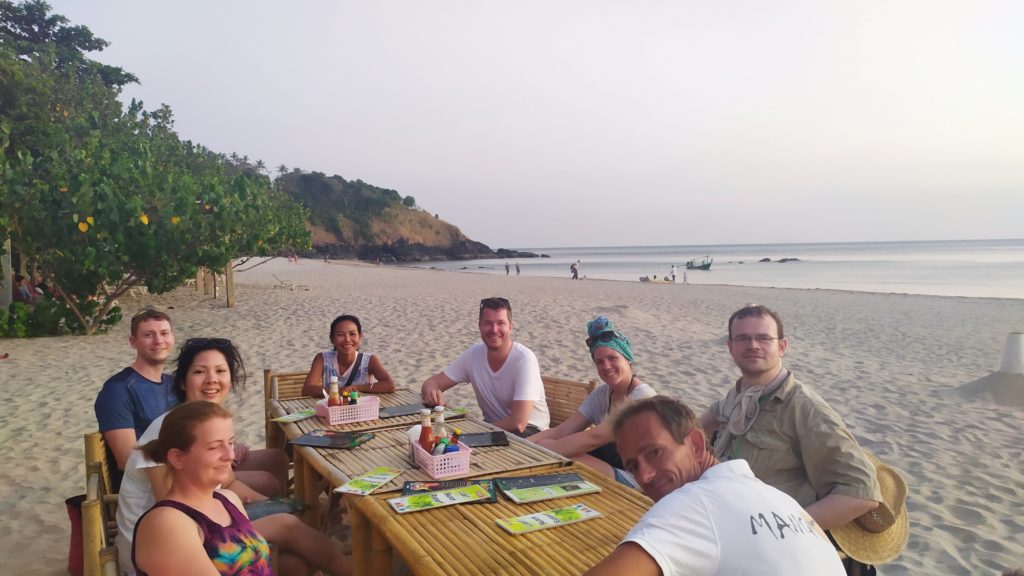 On the second day we drive through Loh Samah Bay and find a beautiful snorkeling spot on Koh Ma, which also offers a variety of marine animals such as rays, starfish and rare coral species. During the evening landing on Koh Lanta we enjoy the sunset in a typical restaurant.
3. Day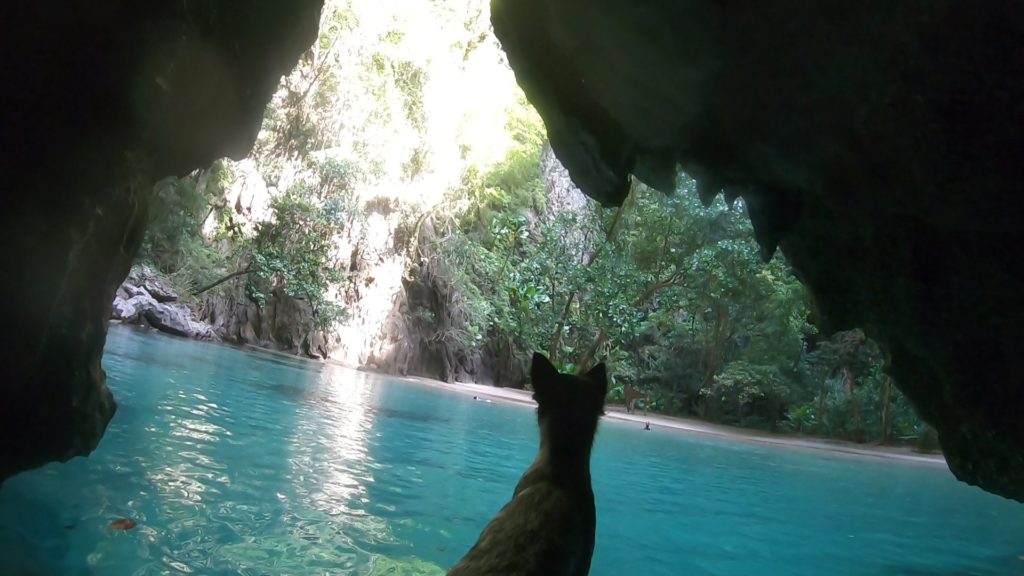 The crew starts the third day with a breakfast together and a short bath. Our path leads to the province of Trang, where the multifaceted richness of the Andaman island world is particularly impressive. Our daily destinations are Koh Ngai, Koh Chuak and Koh Mook. We discover a fish kindergarten, enjoy an incredible photo scenery and explore pirate caves. At dinner, one of the most beautiful sunsets in the region awaits us and afterwards we enjoy the evening with a cocktail in a reggae bar on the beach.
4. Day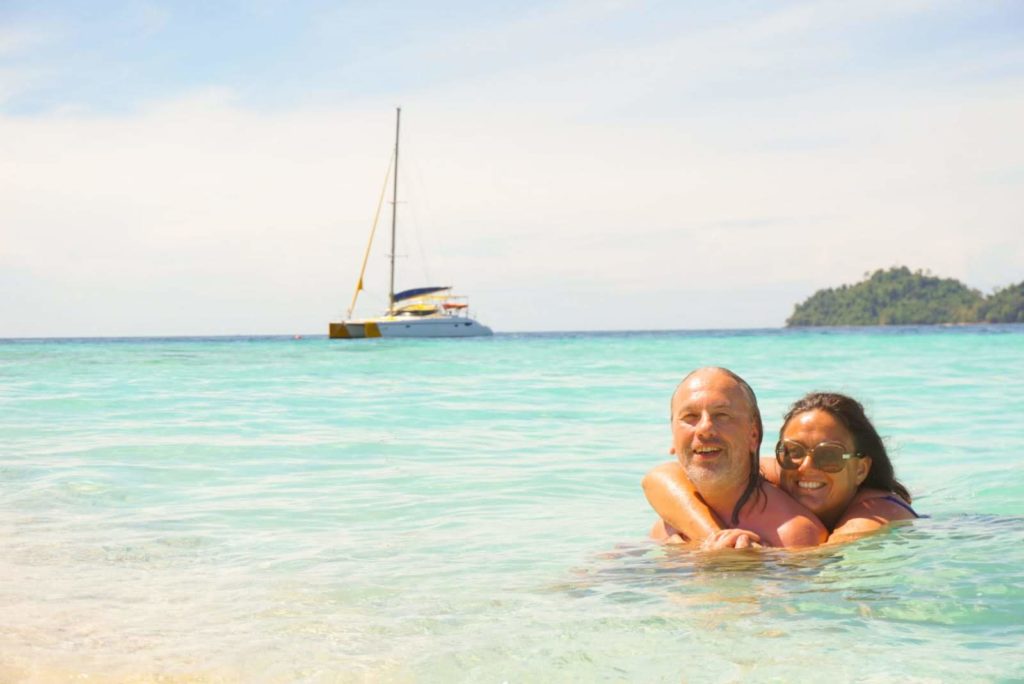 On the penultimate day, the helmsman navigates us past Koh Kradan to the intermediate destination Koh Rok. The bay offers unique snorkeling spots with colorful coral reefs just below the water surface and a lively underwater world. At the dinner together you can be convinced by the cooking skills of our Smutjes and enjoy the sunset from the hammock. During the night sailing to Klong Chak we end the day on the open sea and enjoy the sea air with a cool drink.
5. Day
On the last day we sail along the beautiful coast of Koh Lanta in the direction of Krabi and reach the marina around 3 p.m.